Visioning the Future with Ultra Computing Power

Founded in 2016, Black Sesame Technologies is a world-leading company of automotive autonomous driving computing chip, specializing in advanced R&D of high computing power chips and platform. We provide full solution for autonomous driving and V2X scenarios, including autonomous driving SoC design, learning image processing, autonomous driving computing chip with low power consumption and accurate perception as well as computing platform. We are dedicated to accelerating commercialization of autonomous driving solutions and contributing to the autonomous driving value chain.

Develop with Technology and Intelligence

Black Sesame has carried out a series of commercial cooperation in L2/L3 ADAS solutions and autonomous driving perception systems.
The company's algorithms and image processing technologies are deployed and commercially implemented in smart vehicles, and consumer electronics. Smart Vehicles Consumer Electronics
In near future, Black Sesame Technologies will be everywhere

Black Sesame Technologies has established its R&D and sales centers in Wuhan, Silicon Valley, Shanghai, Chengdu, Shenzhen, Chongqing and Singapore. Currently, it is staffed with over 800 employees worldwide, and its core team consists of talents once served in top companies like Bosch, OV, Nvidia, Ambarella, Microsoft, Qualcomm, Huawei and ZTE, whose professional experience averages 15 + years.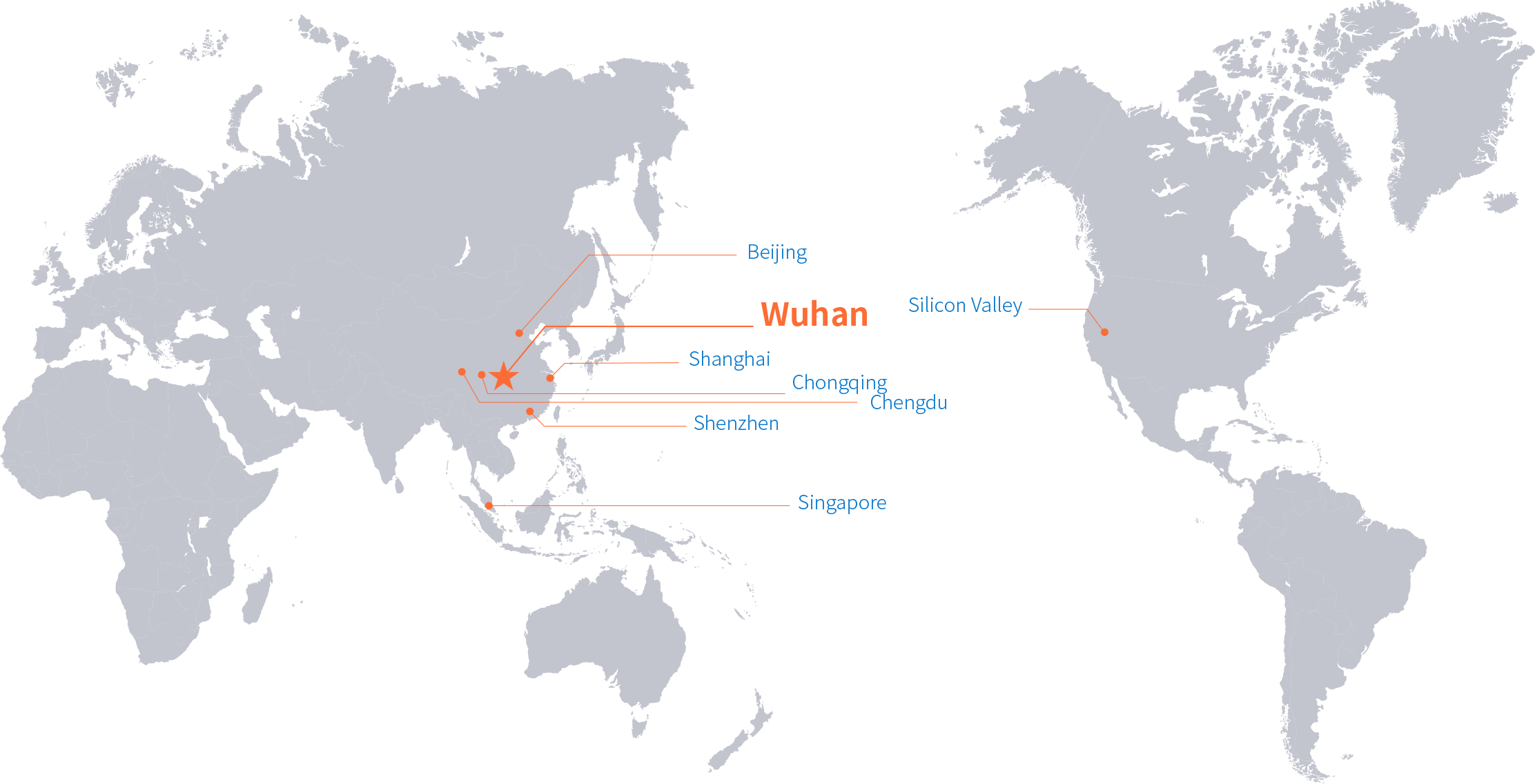 Only Masters
Craft the Best Technology

Black Sesame Technologies is the only company in China that has recruited a team with more than 20 years of experience in both automotive industry and the chip industry.
The team constitutes the unique advantage of Black Sesame Technologies, which knows chips better than the automotive industry and knows cars better than the chip industry.
The company employed over 50 doctors and 300 masters
where half of the employees are graduated from the top universities
like Tsinghua University, Shanghai Jiao Tong University, Zhejiang University, Huazhong University of Science and Technology, University of Science and Technology of China & etc.

Imaging

See Clear

Our automotive grade ISP provides exceptional image processing capabilities, ensuring that everything on the road is crystal clear.

Interconnection

See Far

Our solution facilitates integration of data from cloud, edge and terminals, providing access to all the traffic information along the road.

Intelligence

See Through

Our automotive grade NPU for deep learning delivers high-performance neural processing capabilities, transforming vehicles into intelligent companions.
Black Sesame Technologies Automotive Grade Certifications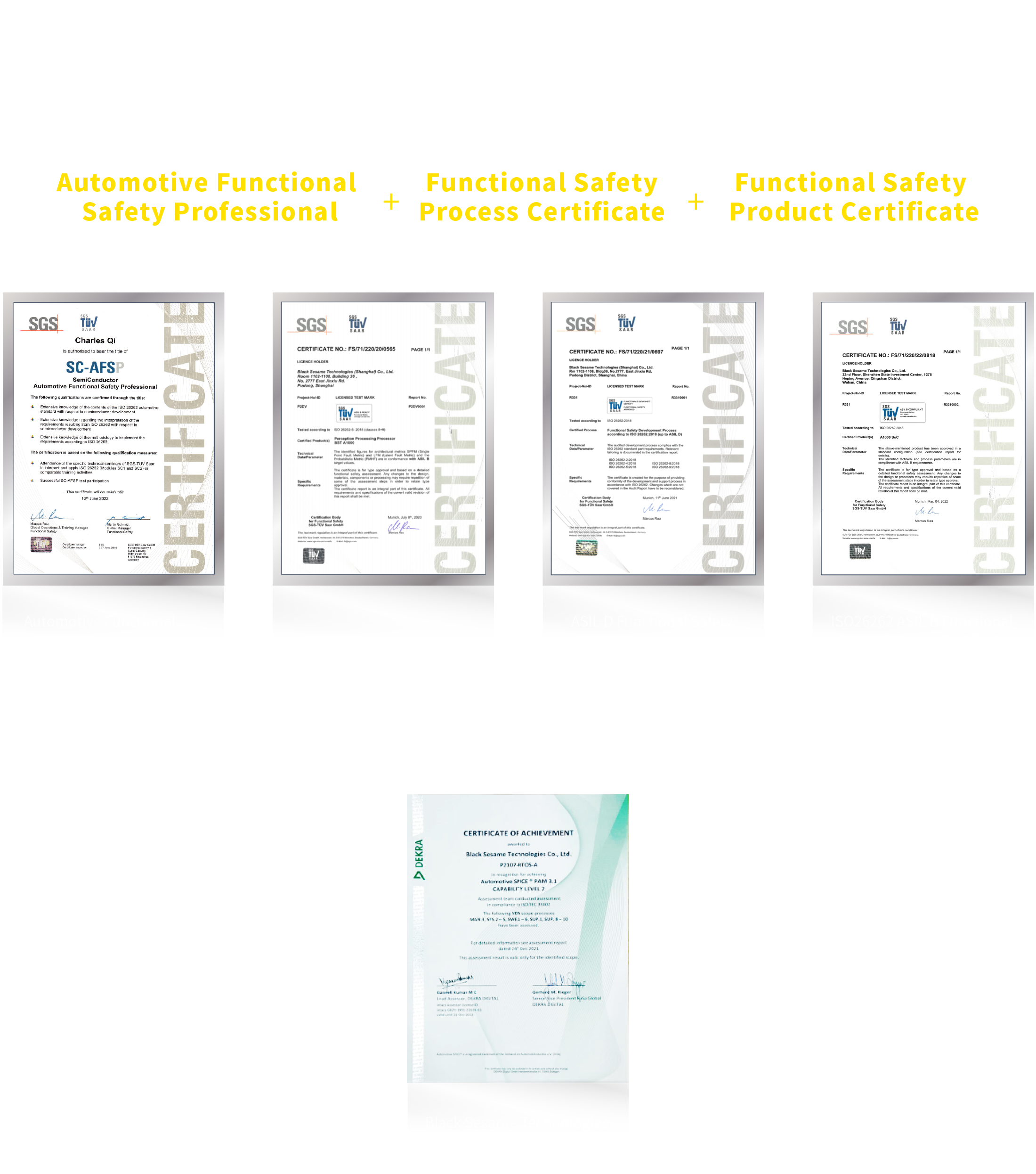 History

Mar.

Signed strategic partnership with Bosch

Dec.

Signed authorization agreement with BYD for mass production of factory-installed surround algorithm with BYD

Aug.

Launched HuaShan-1 A500 chip,which supports L2/L2.5 autonomous driving

Nov.

Signed 5-years strategic partnership agreement with FAW Group

Jun.

Launched HuaShan-2 A1000 chip,which supports L3/L4 autonomous driving
The first self-developed core IP autonomous-driving computing chip in China

Jul.

ISO26262 Functional Safety Standard ASIL-B certificate obtained

Sep.

Sample presentation of FAD Solution to customers

Jan.
/ 
Nov.

Signed strategic partnership with

SAIC-GM-Wuling、Asia-Pacific Mechanical & Electronic、Shanghai Baolong、SOTEREA、LAN-YOU Technology、Nullmax、CAIC、
UNTOUCH、RoboSense LiDAR、Joynext、HESAI

Jul.

Successfully taped out HuaShan-2 A1000 Pro chip, which was the highest computing power chip in China then
ISO26262 Functional Safety Process ASIL D certificate obtained

Sep.

Reached $2 Billions valuation at Series C funding from investors like Xiaomi, Wintech & etc.

Oct.

Signed strategic partnership with SAIC-GM Wuling.

Dec.

ASPICE CL2 certification obtained.

Jan.
/ 
Jul.

Signed strategic partnership with Pji, BlackBerry QNX, Elektrobit, MAXIEYE and Unhder

Jan.

Funded by Boyuan Capital of Bosch Group

Feb.

Huashan-2 A1000 series chips obtained AEC-Q100 certification

Mar.

ISO26262 ASIL-B Functional Safety Process certification obtained

May.

Launched Hanhai ADSP Middleware Platform

Signed strategic partnership with JAC group

Aug.

Completed Series C and C+ funding,with a total fundraising scale of over $500 million